Ability to Pay
The CSB's basic subsidy of its fees is the Ability to Pay Scale. The cost-sharing percentage is based on your income and number of dependents as reflected in your most recent tax return. An individual with an income less than $18,091 or a family of 3 with an income less than $30,631 will not be charged for outpatient services.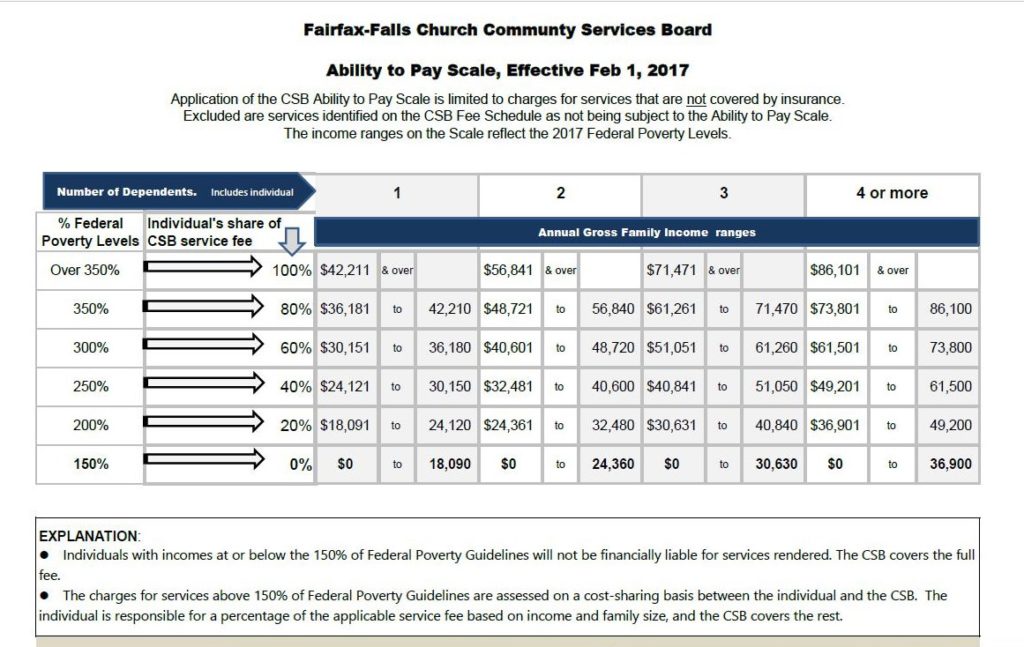 Fees
The CSB accepts cash, checks, money orders and credit cards for payment at the time services are provided, and will file health insurance claims for you with most insurance plans. If necessary, you may speak with CSB staff about payment plans, deferred repayment agreements, and supplemental subsidies.
Financial Assistance
You may be eligible for financial assistance for CSB services if you:
Live in Fairfax County or in the cities of Fairfax or Falls Church;
Have limited or no health insurance;
Are not eligible for Medicaid; and
Demonstrate financial need with proper documentation.
Health Insurance Accepted by the CSB
The CSB has agreements with the following health insurance plans and can file claims and accept reimbursement. However, you are responsible for paying all insurance copays, coinsurance, and deductibles.
Anthem Blue Cross Preferred Provider Organization (PPO) and Point of Service (POS);
Anthem Healthkeepers Medicare-Medicaid Plan;
Anthem Healthkeepers Medicaid;
CareFirst Blue Cross PPO and POS;
Commonwealth Coordinated Care plans:
Humana Gold Plus Integrated;
InTotal Health Medicaid;
Medicare
Tricare Standard;
Virginia Medicaid; and
Virginia Premier Complete Care.
Some health plans, like Kaiser Mid-Atlantic, will only pay for services performed by a provider within their network. The CSB cannot accept those types of health insurance plans as payment for its services.